Wyler is my God!!!
Posts:751
Joined:Wed May 04, 2005 22:53
A.K.A.:When life gives you lemons, make Kaiser Waves
Currently Playing:some games
XBL:BugleHawkeM
PSN:BugleHawkeM
Contact:
Gunsmith, You Asshole!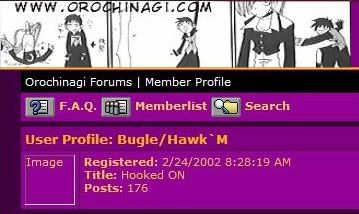 Friday was our tenth anniversary and you didn't get me anything!
---
hunted by pedo police
Posts:1151
Joined:Sat May 07, 2005 13:51
Currently Playing:by ear
PSN:OswaldK9o
Location:red places
---
last rank

Posts:922
Joined:Wed May 04, 2005 13:43
A.K.A.:yours truly.
Currently Playing:your butt.
XBL:your xbox.
PSN:callsign_SERAPH
Location:your bed.
Contact:
---
Posts too much
Posts:1793
Joined:Fri May 06, 2005 18:02
A.K.A.:Wreck-It Richard.
Currently Playing:Baseball. With your skull.
XBL:Callsign Rain
PSN:Anariaca3279
Location:Miami, FL
Contact:
Shame on you, Gunsmith. SHAME.
---