Casuals are underway and tournament about to start NOWWWWWW
BRACKETS
All pools etc here!
FEATURED PLAYERS
XiaoHai, BigFool, Violent Kain, Baxter, Rockland Kyo, Yoshi, Oogosho, El Rosa, Ziwa, RealKim, Vicio, The Answer, Kannibalito, Ren, Luis Cha, Koji and Umezono!!!
STREAMS
The pools will be streamed by The Kings of Co 12 Noon – 6 PM
Watch live video from KingsofCO on www.twitch.tv
Finals (top 8) will be brought to you by non-other than MarkMan and company at the MadCatz booth, from 10AM-12Noon on Saturday.
Watch live video from MADCATZ on www.twitch.tv
SCHEDULE
Pools start at 12:00 on Friday July 17th and top 8s' time is 10AM – 12 on Saturday.
To be able to participate in KOF you only need a spectator pass that you can get HERE, you only have until the 30th to get it!
PRIZES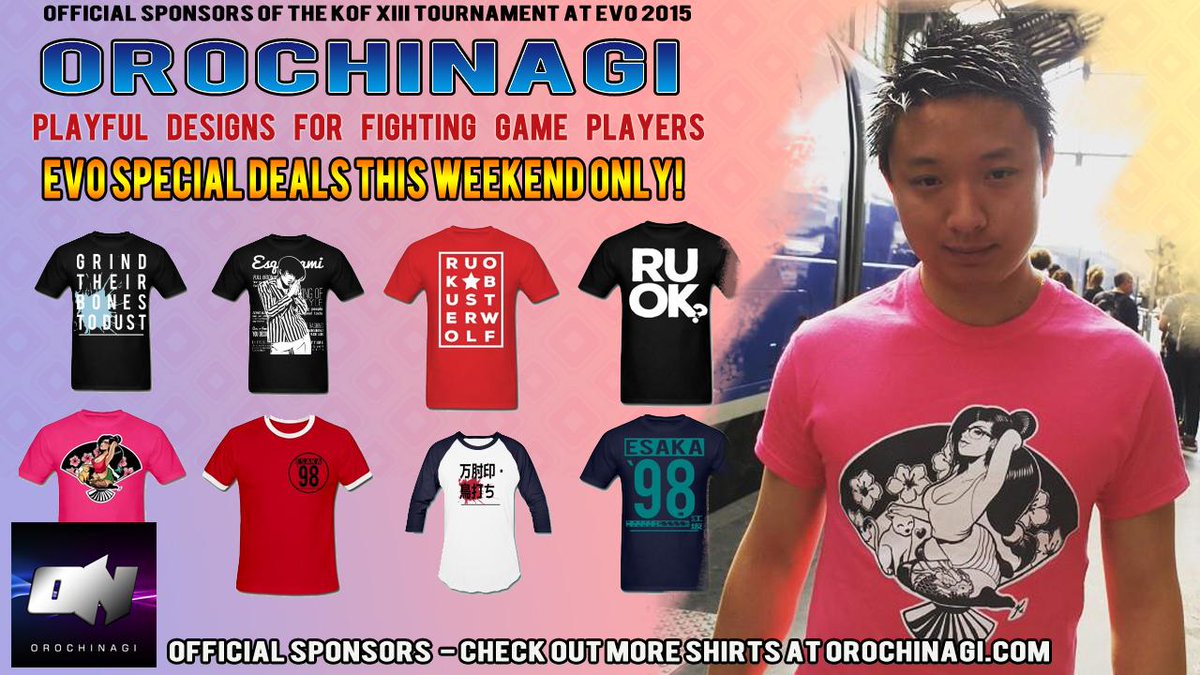 Tshirts for top 3 are provided by ON, plus there is a bonus lottery for all entrants.
KOF fans, we do need your help! We haven't secured a bonus pot for this event so we are looking to all of you for help. Please donate here.
If you do choose to donate, please a "Pot Bonus" note to the donation. If you donate, many, many thanks in advance!!!
Whether you are going or not, please consider donation for the pot bonus. Just make sure to add "KOF XIII Pot Bonus Donation" on the donation message box!
Please Donate to the KOF XIII Pot Bonus!
 DUELLING THE KOF
Uh yeah, the same weekend as Evo.  Well, at least it begins two hours after KOF pools in the US.  So, stream monsters are gonna have a looooong day!
Duelling the KOF: ReVamp features KOF13, 2002UM, 98UM and 2002.  Players have qualified from various arcades in Japan.
It seems this will be streamed on Twitch
However, it doesn't seem as if they keep archives!
Here is the schedule, taken from Koucha:
Saturday (18th July)
12:00~ : KOF13
14:00~ : KOF02
17:00~ : KOF13 finals
22:00~ : KOF02UM Exhibition
Sunday (19th)
12:00~ : KOF02UM
14:00~ : KOF98UM
17:00~ : KOF02UM
time permitting ~ : KOF13Exhibition : TOP TIER WHORES VS CHARACTER SPECIALISTS
If you're at Evo this weekend, they'll probably be a viewing party, so ask around, you might pick up some last minute tips (if you've made it through pools!)
Players to watch out for in the KOF13 2v2:
ゲームスポットバーサス代表
・炎、空手、本田翼 (いちむ/M')Ichimu / M'
・TPDN (ひさ/かばお)Hisa / Kabao
・パム (ピクニック/りのもと)Picnic / Rinomoto
・にーがた (書記/なおき) Shoki / Naoki
新宿プレイランドカーニバル代表 (Playland Carnival)
・Vegasを知る者達 (ON|ハレごろ~/こうこう) ON.Haregoro / Koukou
立川ゲームオスロー第5店代表
・町田勢 (りゅう/ON|天川) Ryu / ON.Tennkawa
寝屋川ABC代表
・stillぐreen (滝/ぐ)
GAME SPOT21代表
・98スタイル (SR/無限)
A-cho代表
・恒川組 (とも@KP/ふじしま)
・けんちゃん・たくちゃん (ターキー/ケデント・ニ・マーヤ) Taki / Kudento ni maya
タイトーステーション町田店代表
・カンピロバクターズ (あずき猫/がく) Azuki Neko / Gaku
プレイスポットビッグワン-2nd代表
・雑魚ちらし (フェア/バム) Fear / Pam
熊谷レッドハウス代表
・ethic (おひき/アンサガ)
For 2002, look out M' and Hummer!
Stream
Watch live video from deshikawa on www.twitch.tv
Sources: KOF Koucha | Duelling the KOF: ReVamp | Play Spot Big One 2nd Saitama (featured image taken from there with thanks)
SNK PLAYMORE EXCLUSIVE SUMMER SALE! Paid Game Apps at $0.99 each!
July 17th, 2015 ~ July 31st, 2015
SNK PLAYMORE EXCLUSIVE SUMMER SALE!
For this sale, we offer popular paid apps in the "THE KING OF FIGHTERS", "FATAL FURY", "METAL SLUG" Series, and more titles as well at "$0.99" each!
Full breakdown here
SHIRTS EVO SPECIAL DISCOUNT!
Up to $3 off shirts this weekend!
Our Tshirts: USA